From the lack of updates here one could conclude that I might have lost interest in WoW, but that is definitely not the case ! Ever since Legion came out I have been doing my daily World Quests with Morpheus the (balance) druid. Only just the last few weeks or so I have been switching to Zendrella, my warlock a little bit and skipped a day here and there. Mainly because I have completed the balance artifact power tree as you can see below.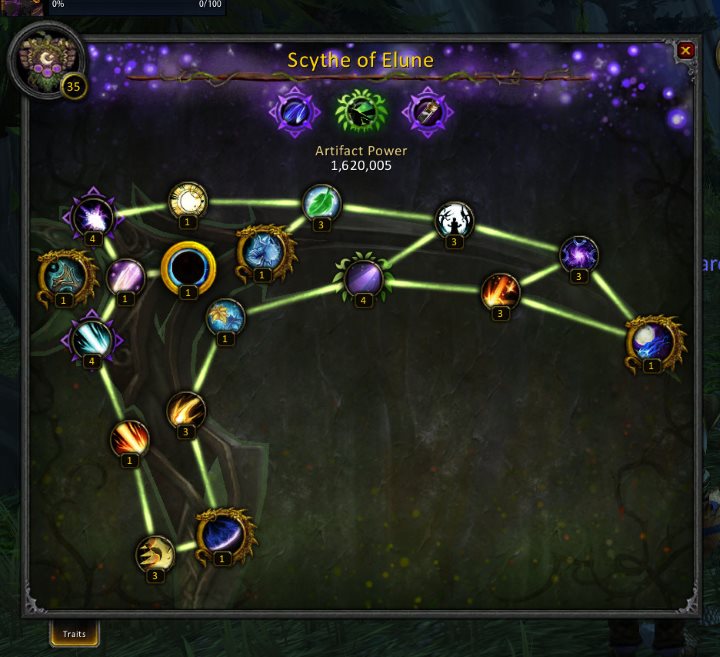 With a 865 rating, and 2 legendaies I kinda feel like I have won the game ;). Seriously though, you can quite far by just doing the world quests and the weekly 'open world' mods. The LFR loot is only about 835 level, so dont expect to get any decent gear through that avenue. Though a new raid 'Nighthold' opened up it's first wing for LFR with high level rewards.
But enough about gear, how is the game ? The Broken Isles are quite fun ! The leveling is pretty good with each zone having an overall (independent) story arc. The mobs and quests are always your level or one below you, the Broken Isles scales !
Once at 110 a new game starts though. Originally you had to be friendly with all factions on the Isle to start, but to my surprise once Zendrella hit 110 she could start world quests and was giving the extremely handy '
flight master's whistle
' to get started.