Yesterday Morphea and 4 guildies cleared the Underbog. No help from lvl 70s this time ! We had 2 mages, lvl 64 and 62, a druid tank and a holy paladin as healer (both 64). And we did very well. The only wipe occurred right before the first boss where we somehow pulled 2 Bog Lords (and the boss ? wasn't quite clear to me what happened exactly). We got 1 down, but then people started dieing and with just me and the pally left, we got the other bog lord to 20% or so and I couldn't shake him off anymore, (my pet was a goner by this time) to shoot him and we died as well.
The third boss was a fun fight. His pet is a captured druid in bear fun. When he get to about 20% health, he becomes friendly. When you speak to him afterwards, he thanks you for freeing him, and that it was an embarrasing experience, being a hunter's pet :).
Then in the passage before the last boss, I accidentally sent my pet to the next group. My heart skipped a beat when I saw him rushing off. I was too late pulling him back, and he brought three extra mobs to the already tough group we were fighting. But miraculously, we managed to kill em all :). With barely any health and mana left !
Everything went smoothly until we got to the last Boss. He is pretty tough. Luckily when we screwed up, he somehow reset and got back to his place, leaving only some of us dead on the ground. On the first try the clothies died, and somehow the Stalker evaded. On the second try the pally got killed (he got allevated and plummeted to the ground) and we ran out of the room. The third try though was very smooth, and the boss went down pretty fast.
As you can see, not the whole group grasps the concept of the victory end screenshot :). There is another one over here.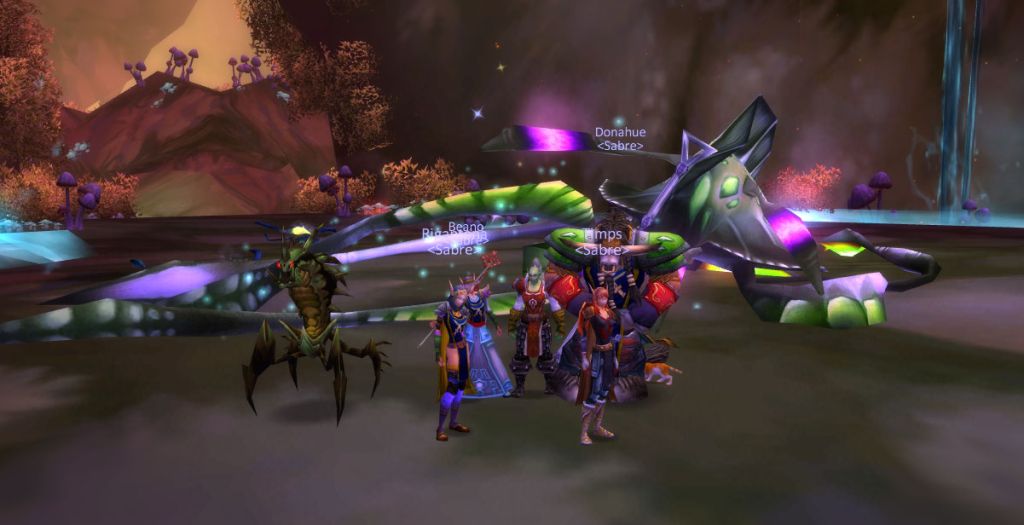 No interesting Hunter drops, just some cloth and +spell dmg stuff. From what I saw on wow-loot.com, the Slave Pens has some more interesting possible hunter drops. Hope to do that instance soon as well.
Completed four quests in the Underbog and thanks to rested XP I went from 350k xp needed to 180k or so. Gained between 1000 – 1200+ xp per mob kill, which was very nice. The 65 – 66 grind seems to take a bit long. The Terrokar Forest quests are a bit grindy (wolfpelts anyone ?), and are starting to bore me. I am actually thinking of skipping a bunch and heading straight to Nagrant, which is a much nicer environment. Sure it has it's grind quests as well but all in all a more enjoyable experience than TF, atl east from what I can remember when I did all that with morpheus.