Mainly did dailies dailies and more dailies this week. Think I went a bit overboard as I didn't feel like doing them at all the past few days. So today we just did the Auch. Crypts instance. The bosses gave me two more spirit shards. I had 15 in my bag, so I finally figured out where to exchange them. You can use those spirit shards at Gartok in Terrokar Forest. You only need 8 to obtain Swift Windfire Diamond, a Metagem to be used in your headgear socket. I am currently using it in Earthwarden's coif and it's a nice gear upgrade.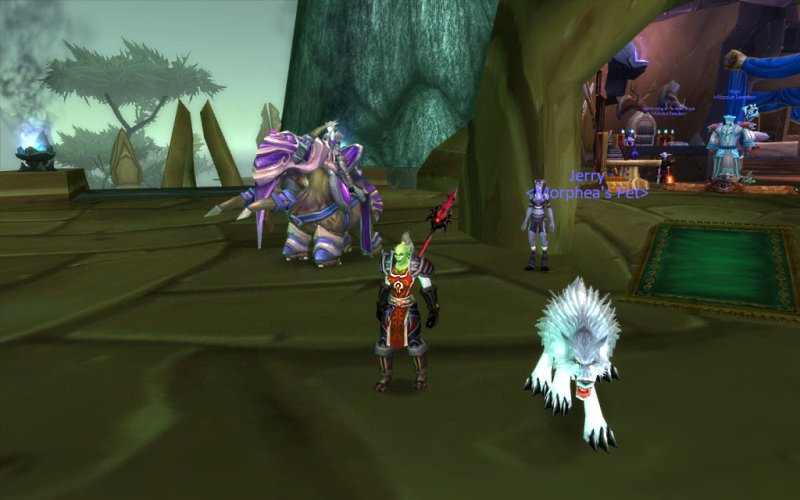 And with pain in my heart I had to let Jerry the wolf, my trustworthy companion from around lvl 28 – 60 go. I don't see myself leveling a pet from 60 – 70, and I needed to open up a slot to learn the highest ranks of Bite and Gore. Got a very nice new dinosaur named Sparkles though. He holds aggro very well, and he was already tamed at lvl 69. I took him with me on all the dailies and he's just turned 70 during the last instance run. I found him in the top north sphere in Netherstorm. If you have a pet spot open, I'd like to suggest you try one of them out. They look fun (wiggly tail and all) and do nice dmg as well.
And that makes my pet collection complete, got a cat, a ravager and the above mentioned dino now. I sure hope that once WOTLK arrived we get 2 more spots so we can train the new animals in Northrend. Otherwise I am going to have to let go of one of them and that won't be fun.