Ok it's been a bit longer than a week, but the title sounded cool ;). Morphea has finally left Terrokar Forrest behind her. We did the group quests with the guild, which was a lot of fun, but the environment was getting on my nerves by now, so I left a few quests undone and finally moved to Nagrand. I'm so glad I got an epic mount, because it's rather big and there is quite a bit of running around between the various quest hubs and mobs.
The first quest chains I did were ofcourse the hunting quests for the Nesingwary Epidition. Kill 60 goats, owls and clefthoofs. And then the elites. A friendly guild druid helped out with those. The big elephant like creature at the end of the chains 'Tusker' was pretty tough, but we made it and I got me a new gun to replace the epic pvp bow. I also collected the beads killing ogres and some quests for the Consortium.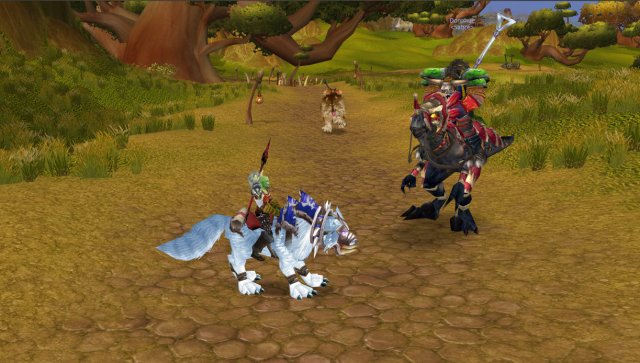 Also ran various instances with the guild the past week, with the help of one or two non-guildies here and there. Slave Penns was easy, we were a bit higher lvl than the instance is rated, and cleaned it out without problems. Sethekk Halls was more troublesome. I think we bit off a bit more than we could chew, and wiped quite a few times, especially at the End Boss, some of us even had to go back to the caravan camp and repair. But it was so cool when we finally did it. The quest reward for the instance is a very nice polearm with lots of agility and stamina on it that actually looks great.
Mana Tombs seemed to be better suited. Only had a little mishap, we even beat the Prince without any troubles. But out of all these, the most fun was Old Hillsbrad in the Caverns of Time. It was pretty tough, but we made it, only wiping twice. The mobs have fear, and some of the groups are pretty close together so you can figure out what happened those two times ;). Also cruised around old Southshore and Hillsbrad for a little while after we were done. It's very nicely done. So nice to see Hillsbrad in it's original state ! All in all Morphea is now lvl 68 1/2 or so, and still plenty to do in Nagrand.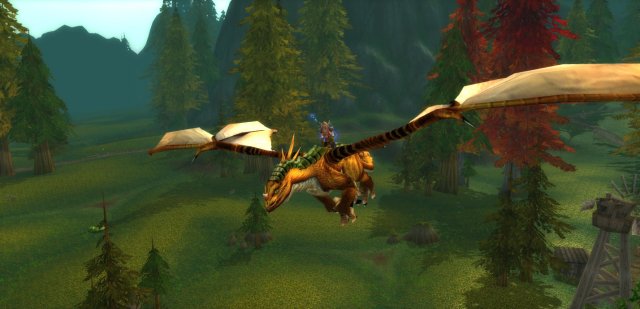 Almost exclusively played Morphea, with Morpheus doing the daily pvp almost every day, and one Arena Night. We did well this week going 7-3, now with a priest / mage / boomkin combo, instead of hunter / mage / boomkin. Ruryk has dusted off his retired priest and at least the fights do last a lot longer now ;).
Patch 2.4 is around the corner, I think it's already been downloaded in the background, looking forward to the new dailies !