The Bob Dylan CD Guide
There is a new live album released in Japan. . It's a very nice collection of tracks taken from 1961 'till 2000. The tracklisting can be found on the cd page. The album is available as an import cd from amazon.com and amazon.co.uk.
Love And Theft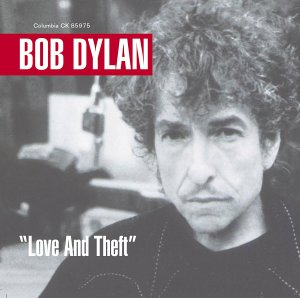 At first I wanted to do a song by song review. You know one of those reviews that reduce an album to a mere list of songs. Then I realized that such a review would not do this album justice. Bob's cryptic comment about this album that "it's a greatest hits album but without the hits" can only be understood after one has closely listened to this wonderful piece of art. Cuz that's exactly what this album is: Bob's own greatest hits album. Not his own greatest hits, but Bob's own favorites from all the types of music he likes. There is one remarkable thing though; he wrote these greatest hits himself. Dylan is taking the listener on a trip through American music history.

This album has it all, it's very diverse: it kicks off with a rockabilly type song, which is followed by the somewhat more modern Mississippi. What else do we get ? A rock n roll song that could have been recorded in the '50s by Elvis in the Sun Studios called Summer Days. 2 heavy blues songs Cry A While and Lonesome Day Blues. Two '40/'50s ballads, Bye And Bye and Moonlight. Po' Boy sounds like a traditional folk song. Highwater is like a remake of Hollis Brown, the way that song was played in concert. It even has the same atmosphere, as if there is something bad about to happen. Floater is a more jazzy type song, with a very nice fiddle. Honest with me is a more rocking song.

The album closes with a haunting ballad 'Sugar Baby' which is definitely one of the best songs Dylan has ever written. And it should make those people that doubt Bob's vocal abilities shut up forever.

This album is way better than the sum of its parts. At first I found a few mp3's here there on the web and I only liked Mississippi. But only when I listened to the entire thing, in the order it was intended to be listened I was blown away by this album. Is it a very original album? Basically: no, everything on this album has been done before. The point is that the songs on this album are done SO WELL!!! The lyrics are as diverse as the songs are. Love songs and dark and mysterious lyrics, this album has it all.

A special mention here for the band:
Larry Campbell - Guitars and everything else with strings
Charlie Sexton - Guitars
Tony Garnier - Bass
David Kemper - Drums
Augie Meyers - Keyboards, Organ, accordion etc.

Finally Dylan records an album with his travelling band (first time since 'saved' 1979) and it works out great. The additional keyboards and accordion are wonderful and very tastefully done.

"Some of these memories you can learn to live with, but some of 'em, you can't".

To check out the lyrics and other reviews, check out the Love and Theft section of Expecting Rain.

You can order the album from Amazon.com.
Bob Dylan Live 1961-2000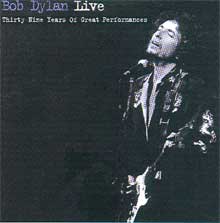 Thirty Nine Years Of Great Performances
There is a new live album released in Japan in limited edition. It's a very nice collection of tracks taken from 1961 'till 2000. This is the tracklisting.

1. Somebody Touched Me 9/24/2000 (Portsmouth, England)
2. Wade In The Water 12/22/1961 (Minneapolis)
3. Handsome Molly 1962 (Gaslight)
4. To Ramona 1965 (Outtake from the film, Don't Look Back)
5. I Don't Believe You 5/17/1966 (released on the album, LIVE 1966)
6. Grand Coulee Dam 1968 (from Woody Guthrie Tribute Album)
7. Knockin' On Heaven's Door 1/30/1974 (Madison Square Garden NY from BEFORE THE FLOOD)
8. It Ain't Me Babe 1975 (from RENALDO & CLARA) 
9. Shelter From The Storm 1976 (from HARD RAIN) 
10. Dead Man, Dead Man 1981 (New Orleans)
11. Slow Train 1987 (from DYLAN & THE DEAD)
12. Dignity 1994 (from UNPLUGGED) 
13. Cold Irons Bound 12/16/1997 (El Ray Theatre, Los Angeles) 
14. Born In Time 2/1/1998 (New Jersey Center, New Jersey) 
15. Country Pie 2000 (Portsmouth, England) 
16. Things Have Changed 2000 (Portsmouth, England)

The album is available as an import cd from amazon.com and amazon.co.uk.
The Best Of Broadside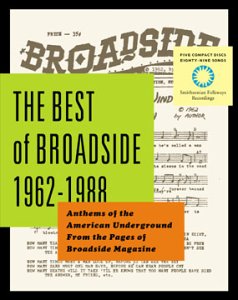 The broadside was a NY based magazine that published the lyrics and music of 'topical' songs from 1962 - 1988. For example, Pete Seeger, Bob Dylan, Janis Ian and Phil Ochs had their songs published.

If you're like me, a sucker for well packaged boxed sets then this is the ultimate set for you. The cd's are within a big binder in sturdy carton. The binder itself comes in a neat slipcase. Inside the binder is the story of the Broadside magazine accompanied throughout by wonderful pictures. Each cd in the binder is followed by a history of each song and it's performer with pictures from the original broadside mags ! Very informative and a must have for everybody even remotely interested in the history of american music. The sound quality of the tracks is pretty good, considering that some of the songs, especially the older ones were recorded at the home of Sis Cunningham and Gordon Friessen who ran the magazine. You can get it from amazon.com and amazon.co.uk. The offical website is located at www.bestofbroadside.com.


Essential Bob Dylan
The third bestof of this year and this time it's a USA only release, the Essential Bob Dylan. Nothing special on this disc, it's a mix of the previous greatest hits selection with Time have changed from the wonderboys soundtrack thrown in. Recommended for the new Bob fan, and maybe essential for the completists ;-). Here is the tracklist:


Disc: 1
1. Blowin' In The Wind
2. Don't Think Twice, It's All Right
3. Times They Are A-Changin', The
4. It Ain't Me, Babe
5. Maggie's Farm
6. It's All Over Now, Baby Blue
7. Mr. Tambourine Man
8. Subterranean Homesick Blues
9. Like A Rolling Stone
10. Positively 4th Street
11. Just Like A Woman
12. Rainy Day Women #12 & 35
13. All Along The Watchtower
14. Quinn The Eskimo (The Mighty Quinn)
15. I'll Be Your Baby Tonight



Disc: 2
1. Lay, Lady, Lay
2. If Not For You
3. I Shall Be Released
4. You Ain't Goin' Nowhere
5. Knockin' On Heaven's Door
6. Forever Young
7. Tangled Up In Blue
8. Shelter From The Storm
9. Hurricane
10. Gotta Serve Somebody
11. Jokerman
12. Silvio
13. Everything Is Broken
14. Not Dark Yet
15. Things Have Changed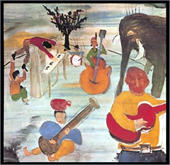 Band Rereleases
The first four albums of The Band remastered and rereleased with extra tracks ! Needless to say there is a lot of Dylan related stuff on them. The albums are "Music from Big Pink", "The Band", "Stage Fright" and "Cahoots".

The Band staked their claim to a place in rock history backing up Bob Dylan, but when they emerged as a recording unit in their own right, their impact reverberated through the pop-music community. 1968's "Music from Big Pink" prompted Eric Clapton and George Harrison to reassess psychedelia and explore a more down-home approach to music. The group's self-titled sophomore release ("The Brown Album") found them mustering their vocal, instrumental, and compositional skills to produce what many consider the Band's studio apex. Album number three, "Stage Fright," found them taking a tougher stance, prompted by the demands of stardom and constant touring. And "Cahoots," while not as uniformly inspired as its predecessors, nevertheless serves up a surplus of great playing and vocalizing, including a guest shot at the mic by Van Morrison.
---
CD Releases


Released in Europe only (may 8th): Bob Dylan Best of Vol 2:


Things have changed 5:25 (Single - Wonder Boys soundtrack) 1999
A hard rains a-gonna fall 6:42 (The Freewheelin' Bob Dylan) 1963
It ain't me babe 3:30 (Another Side of Bob Dylan) 1964
Subterannean homesick blues 2:21 (Bringin' it All Back Home) 1965
Positively 4th street 3:20 (Single/Greatest Hits 1) 1967
Highway 61 revisited 3:15 (Highway 61 Revisited) 1965
Rainy day women #12 and #35 4:33 (Blonde on Blonde) 1966
I want you 3:06 (Blonde on Blonde) 1966
I'll be your baby tonight 2:33 (John Wesley Harding) 1967
Quinn the eskimo 2:43 (Greatest Hits 2) 1971
Simple twist of fate 4:18 (Blood on the Tracks) 1975
Hurricane 8:33 (Desire) 1976
Changing of the guards 6:34 (Street Legal)
1978
License to kill 3:31 (Infidels) 1983
Silvio 3:05 (Down in the Groove) 1988
Dignity 5:28 (Oh Mercy outtake) 1998
Not dark yet 7:10 (Time out of Mind) 1997

There will also be a Limited Edition that has a 2nd bonus disc that will feature 2 previously unreleased live tracks: Highlands and Blowing in the wind.
It's available thru amazon.co.uk
Greenwich Village in the 60's
| | |
| --- | --- |
| | This wonderful compilation cd doesn't have any actual Dylan performances, but it does have a very nice cover of Bob's My Back Pages by Marshall Crenshaw. The cd comes in a nice foldout digipack with a very informative booklet that mentions Dylan numerous times. John Cale & Suzanne Vega, Ron Sexsmith, Curtis Stigers and many others perform songs related to this famous street in the heart of the Village. This cd comes highly recommended ! |
---