Bobdylan.com
The Official Dylan site. Most interesting are the 'previously unreleased' live tracks that can be found here. Official Concert info is available here also.
Boblinks
Bob Dylan Tour Dates
This site by Bill Pagel offers a large list of Dylan sites around the web. He also has the most up-to-date concert information and a large catalogue of setlists.
Expecting Rain
One of the best allround Dylan websites on the web. Also the home of Deep Beneath The Waves, a newsletter on Bob Dylan unofficial releases.
Allen Fraser's Official Rarities Page
This excellent site 'searching for a gem' offers an insight on where to find extra (live) tracks and other special stuff on Official Releases.
Bob Dylan Yahoo Group
This Bob Dylan mailing list now has over 300 members. Don't sign up unless you're a 300% fan ! Now hosted by Yahoo.com
Judas! Magazine
Homepage of the new Judas! Magazine by Andrew Muir and Keith Wootton
Judas! magazine is more than just another Dylan fanzine, fine though all those are. It is a professionally published Dylan magazine, edited by Andrew Muir and produced by Keith Wootton, with regular contributions from professional writers and journalists in addition to well known writers from the 'Dylan world'.
Rolling Thunder Band
Check out this UK Dylan cover band, they have their own website, Dylan related links, and
Dylan trivia games
.
Isis
Another fine UK Dylan mag edited by Derek Barker.
Larry Campbell Website
Joy Munsey's site on Dylan's current guitarist since '97. Everything you always wanted to know about Larry but never dared to ask.
Bob Boots
It's not a house, it's a home page
Interested in Unofficial Bob Dylan releases ? Then check out these sites.
The Bob Dylan CDR Trading Guide
You want to start collecting Dylan cdr's and have no clue where to start ? Then this is the page to check out. Also veterans can pick up a thing or two ;-).
The Olof Files
Looking for setlists and or other Dylan concert information ? Then look no further cuz Olof's got it all (well, almost anyway).
Small talk at the wall
Looking for a chat site on the web to talk about Bob ? Then look no further than this Yahoo group !
SugarTown
A website devoted to Dylan Images and Sounds around the web. It's been around for over 3 years now !
Bob Dylan - Just another day
It includes a biography, full list of all albums and songs, full lyric list to all his songs. Audio clips of all his songs, Year by year biography, Midi files and many other stuff, affiliated with Sheet music and half.com for good quality Bob Dylan music, memorabilia, books etc...
Dylan Chords and Lyrics
This site offers just chords & lyrics for almost every Dylan songs. Even the somewhat obsure ones, like George Jackson, Band of the Hand etc. Ofcourse if you're just looking for blowin' in the wind and Watchtower, that can be found too.
Conclusions On the wall
An extensive bibliography of books on Bob can be found at this Edlis site.
Bringing it all back home page
One of the oldest sites around the web. Check out this informative site.
Bob Dylan Coveralbums
A visual discography of Albums and E.P.s with the songs and music of Bob Dylan performed by other artists. A companion site is
Dylan Title Tracks
: a discography of albums, eps, and picture-sleeves that feature a Dylan song as their Title-Track
Bob Dylan Quotes
Very interesting websites that has all sorts of Dylan quotes neatly sorted by date. Especially nice if you're looking for that one line for your sig. file.
Breadcrumb Sins
Excellent Italian Dylan site.
Resources for tapers
In case you're interested in tape/cdr trading, this is the site to check out for more information.
The Philzone
Essential site for phans of former Dead-bassplayer Phil Lesh. Keep an eye on the concert information for Dylan related news.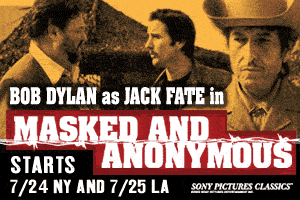 This movie that has come out on
DVD in february
. Dylan appears as Jack Fate, a singer, whose career has gone on a downward spiral, is forced to make a comeback to the performance stage for a benefit concert.
The movie features an all star cast, with John Goodman, Jeff Bridges, Jessica Lange and others. For more info on the movie check out
the internet movie database
.
There will be two different version of the soundtrack released. The
Regular soundtrack
and a limited edition digipack. The limited-edition package contains a hybrid Super Audio CD (SACD) featuring seven tracks from the newly remastered catalog in standard audio, super audio and 5.1 surround sound. Hop over to
the official Dylan site
for a complete track listing.
Sony has put up some trailers for this movie, there is a
highband width version
and one for those with a
slower internet connection
.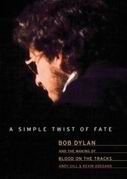 Dylan's Blood on the Tracks album is widely regarded as the best album on love, longing, and loss. This book tells the story on how the album was recorded and under which circumstances. The authors have drawn upon first-hand information and interviews with the musicians, producers, industry insiders, as well as Dylan's friends, associates, and relatives. A Simple Twist of Fate is an engaging chronicle of how one artist transformed his personal pain and confusion into great art.

Sony has released a new episode of the Bootleg Series. It's a Rolling Thunder compilation of the Worcester, Cambridge, Boston, and Montreal shows from 1975. The music on this set is mindblowing, and Sony did an excellent job remixing and mastering this set, the sound quality is simply wonderful.
You can order this set from Amazon.com, it's a
special edition
that comes with a dvd featuring 2 songs from Ronaldo & Clara, Tangled up in blue and Isis.

Stealing Homepress
has released
Like a complete unknown
, the poetry in Bob Dylan's music '61 - '69.
"A sincere, in-depth, nonacademic look at a fascinating subject. Hinchey's thoughtful and clear sharing of what he hears in these songs will offer many readers stimulating reminders of and insights into their own relationships with this songwriter's poetry."
--Paul Williams, author of Bob Dylan: Performing Artist, vols. 1 & 2.
For more info and orders visit the
Stealing Homepress
website
There is a new Dylan song on the soundtrack of the movie
Divine secrets of the Ya Ya sisterhood
. You can order the soundtrack from
Amazon.com.
The soundtrack of
Gods and Generals
features a new Dylan song called Cross the green mountain. You can get it from
amazon.com
. It even comes with a bonus DVD !
World Alanac Library has released a new book in their
Trailblazers of the Modern World
series. The subject is the life and influence of Bob Dylan ! It's a very nice book filled with photos and offers a good overview of Dylan's career and his place in history. The book is geared towards children aged 9 - 12. Great book to introduce Bob to your children. It's available in
Hardcover
and Softcover. You can contact the publisher at
[email protected]
.
Formative Dylan: Transmission and Stylistic Influences, 1961-1963
by Todd Harvey. The book examines the musical roots of 70 songs from Dylan's early career, namely from his first three Columbia LPs, officially released out takes from those sessions, and his Broadside session recordings released by Folkways. Each of these songs is presented in a short article that details melodic and lyric roots and describes contemporaneous performances to show the process by which Dylan learned or composed his formative repertoire. Three appendices help the reader to understand this repertoire not only in the continuum of American music, but as a reflection of Dylan's own compositional development.
A new book titled The Nightingale s Code A Poetic Study Of Bob Dylan by John Gibbens with photographs by Keith Baugh was published on Monday 29th October 2001 and is available online at the new shopping site
http://www.judasmagazine.com
. It's an excellent book, that provides new insights on Dylan's lyrics. The photos are very nice as well. Many have not yet been published before.

Bob is almost always on tour. He has played the USA and Europe the 1st half of this year and has played Canada and USA in the summer and fall. As always check Bill Pagel's
Bob Dylan Tour Dates
for setlists and tour dates. And ofcourse the official
BobDylan.com site
.